東京工芸大学講義 – Tokyo Polytechnic University Lecture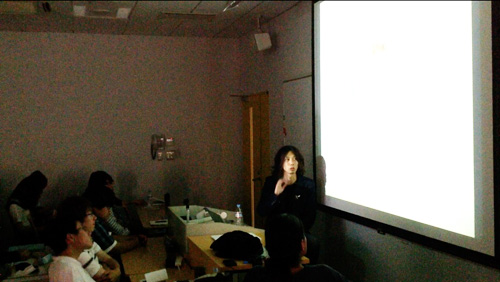 filmed by Kiyasu [TechnikLAB] / screen capture
先日、東京工芸大学で講義をさせて頂きました。
聴講してくださった学生の皆さん、
招致頂いた近藤テツ先生、喜安さん、
得難い時間を過ごさせて頂き、ほんとにありがとうございました。
授業後に学生の皆さんから頂いた72枚のアンケート、通しで8回以上読みました。
もうそろそろ暗唱できそうです。
時代感やリアリティ、あるいはそのどちらにも流れる普遍性みたいなものについて
じっくり考えたくなる素晴らしい機会を頂きました。
頂いた質問については、近藤先生を通して返答させて頂きますね。
///
I've been at Tokyo Polytechnic University to give a lecture.
It was such a precious time, which is really hard to obtain.
The students there, the professor Tetsu Kondo, Kiyasu and more – all are the type of guys rarely to be met with.
Appreciate such a beautiful occasion + thank you all!