japandorf will be released.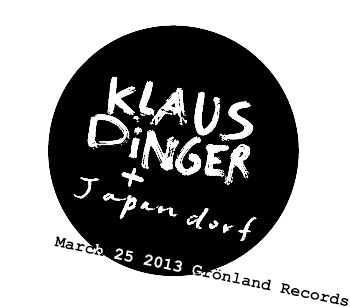 /// EN ///
Project 'Japandorf' will be released on 25th march 2013 from GRÖNLAND RECORDS in UK.
I've took part in this project over 8 years in Düsseldorf, in fact it's final recording from Klaus Dinger.
/// DE ///
Das Album "Japandorf" ist die letzte Produktion von Klaus Dinger (1946–2008). Es ist der außergewöhnliche Abschluss einer Reihe von drei Alben, die aus einem ebenfalls "Japandorf" betitelten Projekt hervorgegangen sind. (Die beiden Vorgängeralben sind "pre-Japandorf" und "VIVA Remix 2010" und bisher unveröffentlicht.)
Es erscheint am 22. März 2013.
GRÖNLAND RECORDS /UK.
/// JP ///
クラウスディンガーとのプロジェクト『japandorf』が2013年3月22日、 UKのGRÖNLAND RECORDSより、リリースされます。
デュッセルドルフにて、足かけ8年の同プロジェクト。
機会があれば聴いてみてください。