HAYY- A SELF TAUGHT MUSICAL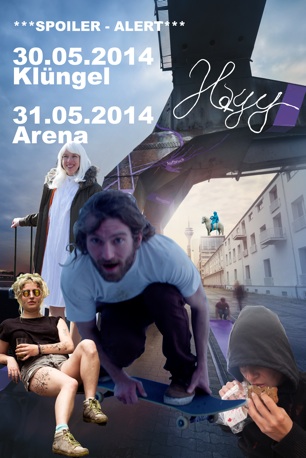 HAYY- A SELF TAUGHT MUSICAL
musik: sub-tle.
Sonntag, 22.Juni 2014, 19.00 – 23.00 Uhr,
Theatersaal,Malkasten, Düsseldorf
Nüans: Elmar Hermann, Anna Heidenhain, Maki Umehara
Film Alexander Basile,
Ausstattung/ Video: Hugo Schneider
Choreographie: Rita McBride
Nach der Geschichte " Der Philosoph als Autodidakt" von Ibn Tufail
Mit David-Marlo Conrads, Elke Kania, Karolina Thorwarth, Micheal Maurissens, Bambi, Andy Slemenda, Antje Feger& Benjamin Stumpf, David Bernstein, Carlotta Werner, Christian Wieser, Claudia Barth, Glen Rubsamen, Hiroyuki Masuyama,, Hoshiko Yamane, Hüseyin Karakaya, Janosch Pugnahi,Joni Waka, Maiko Sugano, Matthis Bacht, Miki Hoei, Naoki Matsushita, Olof Jönsson, Yoshimi Kanbayashi
"The Story of Hayy – A Self-Taught Musical" is based on Ibn-Tufail´s novel "Hayy ibn Yaqdhan / The Self-Taught Philosopher" – a classic of medieval Islamic philosophy, which had a significant influence on Arabic, Persian and European literature. Hayy, is a boy raised by a doe on an uninhabited island. After his "mother´s" death he learns by himself all about craft, medicine, science, philosophy and faith via observation, contemplation, and exploration.. Over the last year nüans has been working on a translation of the basic ideas of the book into the interdisciplinary structure of a musical – a composition of text, music and performance to reproduce, displace and celebrate in new contexts.