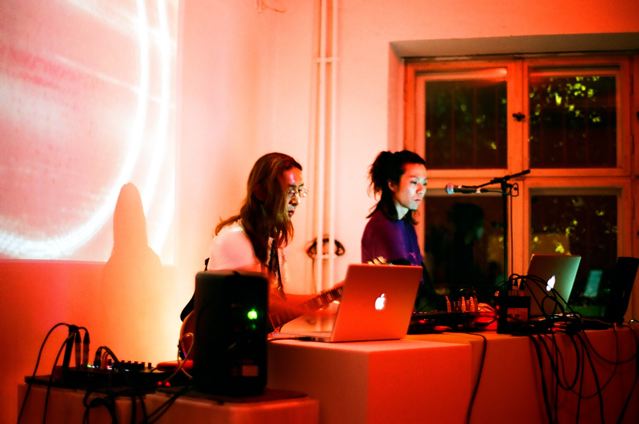 LIVE @ General Public, Berlin / Germany
photo by AOKI Takamasa
撮影:アオキ タカマサ
////////// INFO //////////
NO.1 AT FIRST ENTRY IN TOKYO
Sub-tle. with "14.5″ has got No.1 at first entry on chart of CRJ-TOKYO at SHIBUYA-FM.
NO.1 ON CHART IN NORTH JAPAN
"31.1.5″ from the album "pre_mary" is on the top of the chart from the College Radio Japan Sapporo / North Wave radio station.
NO.1 AT FIRST ENTRY ON CHART IN NAGOYA
The song "Quitte" from the album sub-tle.'s "pre_mary" has come up on the chart as one more first entry at CRJ-C/ZIP-FM in Japan. sub-tle. got No.1 on the charts at three FM radio stations in Japan.
DOCUMENTARY FILM AT ZDF-TV
Sub-tle. works on music for Luk Perceval's documentary film. German TV station ZDF will broadcast this program in the end of 2008. A reproduced performance related to this docu-film will be held for theatres in Spring 2010.
KLAUS DINGER'S PROJECT STILL ALIVE
We would like to announce that sub-tle. would keep working for the La-Düsseldorf.de Project / The album of JAPANDORF.COM is just on the way to the door opening. The release date will be announced global soon. Never fail to check this at: La Düsseldorf
CD ONLINE-SHOP
Our online-shop is available for E.U. customers. Come'n get it here.
////////// UPCOMING SHOWS (updated on 12 Jun 2008) //////////
14 Jun.2008 (Sat) @ ROTTSTR 5 / Rottstrasse 5, 44793 Bochum, Germany
11 Jul.2008 (Fri) @ Salon des Amateurs / (Kunsthalle) Grabbeplatz 4, 40213 Düsseldorf, Germany
23 Aug.2008 (Sat) @ OPEN SOURCE FESTIVAL / Löricker Freibad, Düsseldorf, Germany
05 Sep.2008 (Fri) @ Kunsthaus Rhenania / Bayenstr. 28, 50678 Köln, Germany
////////// インフォメーション //////////
アルバム収録曲 _ "14.5"
カレッジチャート(CRJ)東京 – 週間チャート1位(2008年5月18日付)
アルバム収録曲 _ "31.1.5"
カレッジチャート(CRJ)札幌 – 2週連続チャート1位(2008年5月15日付)
アルバム収録曲 _ "quitte"
カレッジチャート(CRJ)名古屋 – 週間チャート1位(2008年5月15日付)
////////// ライヴ情報 (ケルン日程変更・7月ライブ情報更新) //////////
2008年6月14日 (土)@ ROTTSTR 5 / Rottstrasse 5, 44793 Bochum, Germany
2008年7月11日 (金) @ Salon des Amateurs / (Kunsthalle) Grabbeplatz 4, 40213 Düsseldorf, Germany
2008年8月23日 (土) @ OPEN SOURCE FESTIVAL / Löricker Freibad, Düsseldorf, Germany
2008年9月5日 (金) @ Kunsthaus Rhenania / Bayenstr. 28, 50678 Köln, Germany